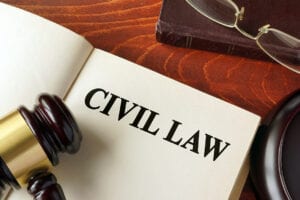 Goyette & Associates' ("G&A") Civil Litigation Department handles various types of pre-litigation matters and lawsuits to aggressively litigate for all clients. We provide a wide variety of services related to civil litigation in Sacramento. We can successfully take on large class actions, individual plaintiff cases, arbitration, and mediation. We can negotiate settlements to state and federal courts, provide strong defense for employers/businesses, or prosecute civil actions for employees/claimants seeking monetary damages for violations of the law. We can also take on cases in the private sector, public sector, union clients, simple complaints, or complex administrative appeals. G&A Civil Litigation attorneys have successfully defended and prosecuted lawsuits under every type of employment and labor law scenario.
G&A Civil Litigation serves as your Sacramento civil litigation law firm, providing our clients with representation to ensure each client's case receives a fair trial and a just hearing.
Our staff is highly experienced in civil litigation law and brings to the table multiple attributes that aid in creating strong cases as well as factual and well-thought-out arguments. As a team, we pride ourselves on being a highly successful civil litigation law firm. Each member of our staff has the experience necessary to see each case through to the end.
The department is headed by experienced litigator Gary G. Goyette, whose pre-law engineering background leads to a thorough, detailed assessment of the facts at issue, which is then applied to the governing law, for which awareness of every updated statute, regulation, and published court decision is key. He has an in-depth understanding of civil litigation in Sacramento, and using his attention to detail, he diligently represents each client.
Associate Attorney Rachel E. Simons similarly confronts every legal issue with innate and meticulous attention to detail, using her legislative experience as a guide to understanding and interpreting the pertinent legal authority as applied to the client's case. Having applied her background in legislation, she understands the inner workings of the courtroom and has the persistence and patience to follow through to a satisfactory solution. Together, they provide their services as a litigation attorney team in Sacramento. This approach leads to G&A typically being more prepared than opposing counsel, resulting in the best outcome possible for the client.
We encourage individuals who believe they have a case to reach out to us. Our law firm handles many major civil litigation cases in Sacramento. G&A Civil Litigation understands that our clients have specific, often time-sensitive needs that must be addressed. We strive to make ourselves readily available to provide you with the support you need to ensure you are properly represented in the courtroom. Additionally, our collective experience allows our firm to provide each client with a competitive edge. With experience across multiple industries, we are ready and prepared to represent you in court.
Call us when you need civil litigation in Sacramento. Our G&A's Civil Litigation attorneys can offer a discreet and professional review of your case.