Immigrant and Nonimmigrant Visa Attorneys in California
If you're a growing company looking to find new talent to help expand your business operations, you may be wondering how to hire foreign workers to fill important skills gaps in your company. You may be considering hiring employees from outside the U.S., or from within the U.S. on a temporary basis.
If this is the case, you should consult with an experienced employment visa attorney for help employing immigrant and nonimmigrant workers. While our immigration system recognizes that U.S. companies need to have the right people in place to succeed in an ever-challenging marketplace, the process can be complex – here is an overview of what's involved as you consider your own visa strategy for hiring new talent.
Immigrant and Nonimmigrant Hiring Process: Your Options
You have two options for hiring immigrant and nonimmigrant workers:
Hiring workers on a temporary basis (through a nonimmigrant visa, such as the H-1B)

Hiring workers on a permanent basis (through the immigrant visa scheme or a green card, such as E-1 or E-2)
An employment visa attorney at our Fresno and Central Valley office can advise you on how to comply with your legal obligations, depending on which strategy you deem right for your business.
Employment Immigration Visas
Visas and American Workers
When it comes to employment-based visas of any kind, you must bear one thing in mind: no employment-based visa will be approved if it adversely affects American workers. In a visa context, American workers are:
U.S. citizens
Permanent U.S. residents
At all levels, employment-based visa cases involve some consideration of how the visa approval could affect American workers or impact upon their interests. Your employment visa attorney will have insights into how this affects your case in your area. Below are a few points to consider.
Prevailing vs Actual Wage
As any immigration or employment visa attorney can attest, all employment-based visa cases have a rule that the "prevailing wage" or "actual wage," whichever is higher, be paid to the foreign worker to assure they are not being hired simply so the company can pay less than it would to an American worker.
Availability of Employment-based Visas
Employment-based visas are primarily available only for professional-level positions, where you're looking for skilled workers to grow your business and fill a skills gap. There is an understanding that there are sufficient American workers for non-professional positions. An experienced employment visa attorney can advise you on available immigration employment visas in your area.
Nonimmigrant Employment Based Visas
U.S. employers may petition the immigration service for temporary visas that allow foreign workers to fill identified positions for a limited period. The primary visa program for this purpose is the H-1B program.
The H-1B program allows U.S. employers to hire professional workers for professional positions for a period of up to six (6) years. Professional workers have a bachelor's degree or higher, for visa purposes.
Other nonimmigrant visa programs include (but are not limited to) those that allow for substantial foreign investors in U.S. companies (E visas), intra-company transfers from foreign parent or subsidiary companies (L visas), and foreign religious workers to provide religious service for U.S. religious organizations (R visas).
In nonimmigrant cases, the U.S. employer submits a petition to the immigration service and, once approved, the individual worker either changes into that status (if here in legal status already) or obtains the visa at a U.S. Consulate in their home country. Many employees and their employers elect to pursue a permanent visa that allows them to remain here beyond the designated period of nonimmigrant visa time. If you choose to go this route, we recommend working with an experienced employment visa attorney or nonimmigrant visa attorney to improve your chances of approval
Employment Visa Attorneys in California
As you consider the nonimmigrant visa opportunities, it is important to understand your company's needs and the costs a company needs to bear when petitioning for prospective foreign workers.
Employment visas can get complicated due to all the requirements that need to be met both prior to filing the petition, and after the employee starts his/her first day at the job. In order to make sure all the right steps are taken in a correct and timely manner, it is important to have a competent employment visa attorney guide you through the process – contact our Fresno and Central Valley Immigration Attorney to arrange a case evaluation.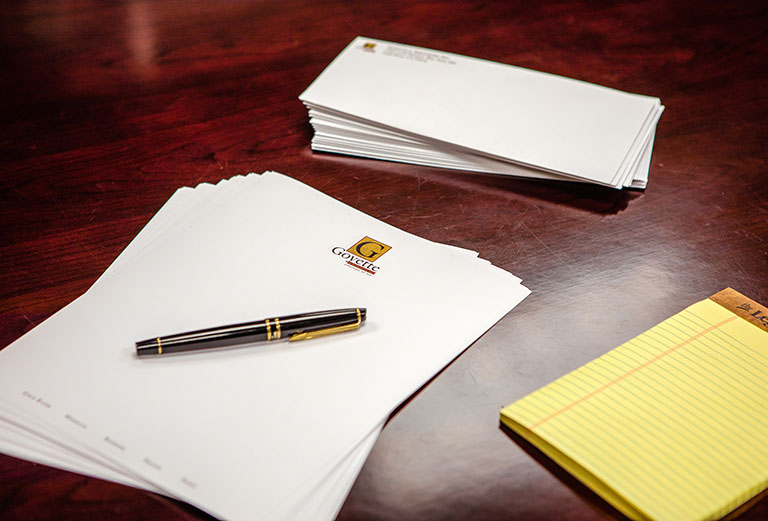 Stationary from a class action lawyer in Sacramento
CONTACT US TODAY AND LET GOYETTE, RUANO & THOMPSON HELP WITH IMMIGRATION LAWS. CONSULTATIONS ARE ALWAYS FREE.