As pension lawyers, Goyette, Ruano & Thompson has seen clients through the obstacles many pensioners can encounter. Too many individuals have worked their entire lives with the simple understanding they'd have their hard-earned retirement as a reward. Only to discover their pension fund isn't always there or that other circumstances are putting access and eligibility for that pension at risk.
Unfunded pension liability is a major problem for government systems, including Sacramento county pension funds, meaning courts are extra hostile towards any pension claims. Our pension attorneys at Goyette, Ruano & Thompson know how to navigate this judicial hostility and get the retirement benefits that you are entitled to.
At Goyette & Associates, we've helped hundreds of clients in need of a pension lawyer in Sacramento. We've taken their case and had to support them in court to get the justice they deserve. We are here to help you through the same process. We can provide expert pension benefits attorney services customized to your unique case and needs.
If you're in the Sacramento area and need a pension lawyer, don't hesitate to call us. We offer free consultations, so you can get started on your case with no risk or obligation. Call us now at  916-851-1900 to find out how we can help you get the pension benefits you're entitled to.
PENSION FUNDS ARE LOW
According to an article published in the Sacramento Bee, public pension funds in California are currently underfunded. Specifically, the article stated that CalPERS, or the California Public Employees' Retirement System, was 70 percent funded at the time of publication. This has since improved, but pension fund volatility is still a concern for many public employees.
CalSTRS, or the California State Teachers' Retirement System, was funded at a level of 64 percent. These are just two examples of problems that can arise for pensioners and why people may need the help of professionals who understand pension law in Sacramento.
Given the hostility exhibited by courts mentioned above, and the fact that some pension funds simply lack capital, these situations can be extremely stressful and complicated for those who need help. Pension law in Sacramento and across the state of California is only going to grow in importance as more people seek benefits from pension funds that are not funded at a level of 100 percent.
It will be up to you to monitor your retirement plan, and there are a few factors that might tell you if your pension is at risk. Here are a few signs your pension plan can be in jeopardy.
Employers start downsizing and pushing enhanced one-time pension payouts.
A new company takes over and uses retirement assets to fund its own plans.
Church plans, exempt from federal regulations, are not required to fund plans or insure them. 
You find a noticeable drop in account balances not easily explained by typical market ups and downs.
WHAT CAN YOU DO?
By law, private plans have to report the fund's financial status yearly. Do not ignore the information. Compare statements across five-year periods. It's also a good idea to track annual stockholder financial reports. 
If you are overwhelmed by the information, seek help from a professional pension lawyer attorney on our team. We can help you make heads or tails of what you are looking at, and take appropriate action if something appears amiss.
As well, the law protects your rights as a pension holder and provides for certain vesting and funding requirements. If you have concerns about how your plan is being managed, or are unsure about whether you are receiving the full benefits you are entitled to, contact one of our qualified pension lawyers today. We can help ensure that your rights are protected and that you receive the full benefit to which you are entitled.
HOW GOYETTE, RUANO & THOMPSON CAN HELP
Goyette, Ruano & Thompson has been helping clients deal with pension law problems in Sacramento and the surrounding area for years. We understand how to navigate these situations such that we enforce your legal rights and your financial interests, without taking undue risks on your behalf. Goyette, Ruano & Thompson has successfully litigated pension disputes in Sacramento County and throughout the state and we would love to put that experience to work for you.
If you have questions about your legal rights to the pension you have earned, contact a Sacramento pension benefits attorney at Goyette, Ruano & Thompson today to schedule a complimentary initial consultation before attempting to handle the situation alone. We can help you define your path forward.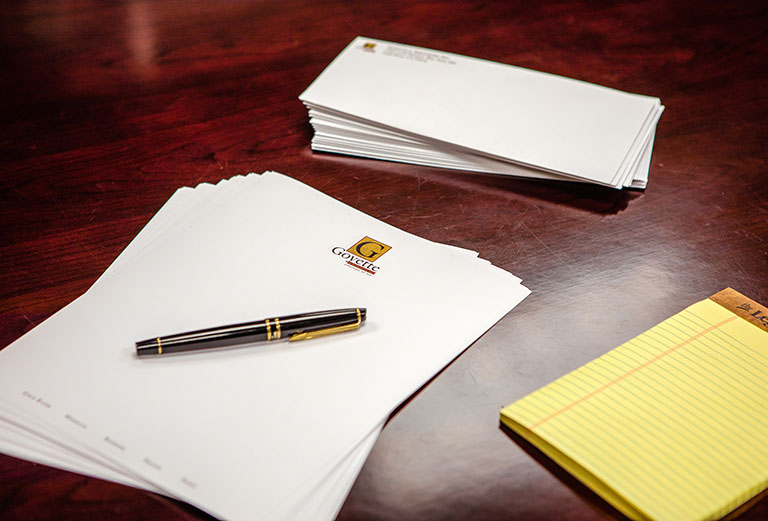 Take the first step to securing your retirement benefits with a case evaluation from our talented team of attorneys.